Real Estate Photo Editing Services

Make Visualizing Easy with Clear Views
Experience a profit surge with luxurious property images edited by ColorClipping. We Enhance real estate images in high dynamic range with attention to detail editing and show real results. Book a demo editing for free!
4.89 / 5
Ratings based on more than 350 client's review
150+
Happy to serve a huge number of clients worldwide
1000 / day
Get outstanding real estate images in big volume.
What we do?
Personalized Real Estate Image Editing
Draw potential buyers' attention and influence sales with our Real Estate Photo Editing Services.
We make all types of editing to help show the interior or exterior structures vividly. We bring you sharp, seamless, & professional-looking images as instructed.
Get plenty of quality photos edited on time without hassle.
Light Stack
Produce a greater dynamic range blending two or more shots in a single photo.
Virtual Staging
Create elegant artistic flair with modern furniture staging in empty photos by us.
Interior / Exterior Retouch
We correct light, adjust elements & photography flaws to provide you top-notch retouched photos.
HDR Photo
Blend multiple exposure (dark, shadow, highlight) images in a correctly exposed look by real estate photo editing.
Enhance Real Estate Photos with Professionals
We offer a wide range of retouchers such as lens distortion, Day to dusk, Item removal, Sky replacement, Lawn retouch, Dust & garbage edit, TV image replacement and lighting stack depending on the type of photo.
Service We Provide:
Merge different exposure

Advanced add-ons editing

Unwanted object removal

Adjust brightness & contrast

Sky replacement/adjustment

Day-to-dusk conversions

Align, warp & blend images
Preferred Style Retouching

Camera RAW Correction

Image deliver on-time

Adjustable Layer File

Image Format as You need

Reliable & Affordable Pricing

24/7 Dedicated Support
Through our real estate photo editing, you'll get images with a perfect look.
Process
How We Execute Task
We follow the latest techniques and advanced technology for top-rated output at the fastest turnaround time to impress your viewers.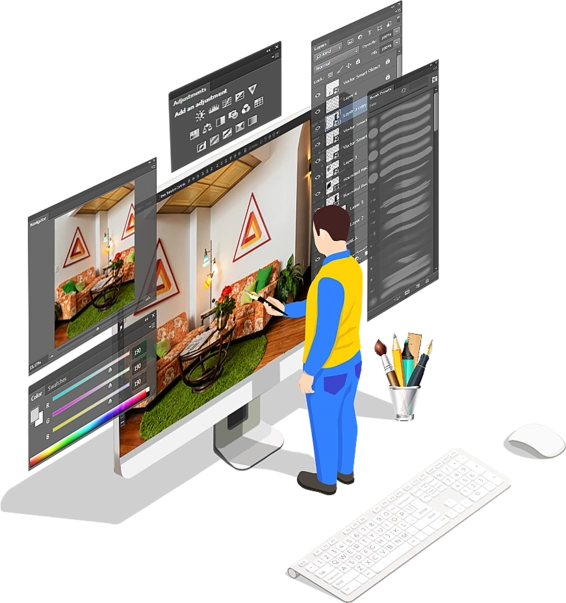 ColorClipping offers professional real estate photo editing. We remove distracting details, sharpen the image, and straighten up vertical/horizontal lines to make perfect real estate images. Controlling the white balance of the photos, our creative team provides bright and crisp images.
Real estate images have lots of in-frame distracting elements that our expert retouchers remove efficiently to enhance clarity overall the image. Throughout the retouching process, we adjust the alignment, blend multiple images, and correct lighting. So, as a final output – get stunning, clean and symmetrical photos.
Our team follows every word of your instruction and improve the overall quality of your photo. Emphasizing light, tone and perspective, we make sure your images are top-notch with a professional finish. If you need a rush hour delivery, please contact us to get a quick service.
Portfolio
Magnificent Images for High Conversion
We provide real estate images with proper lighting and elegant look that attract purchasers. Check out our recent edited photos.
Price
Real Estate Photo Retouching Pricing
Quality is always affordable. Get real estate retouching services at the best quality at cost-effective pricing. Get a flat rate, no extra charge.
$
0
.99
as low as
---
Start now to retouch your real estate images with us. 100% satisfaction guaranteed.
Free Trial
No credit card required.
Affordable Pricing
Get quality retouching at the best competitive price. We never overcharge.
Discount on Big Volume
Receive up to 30% discounted price on project work for our regular clients.
Multiple Free Revisions
You can redo the retouching with a little change personalized to your needs.
Flexible Payment Policy
Pre-paid, post-paid, pay as you go are available to ease your payment schedule.
Portal
What's our
Specialty?
At Color Clipping, we bring features into being for quality-driven client services. We explore, we thrive on and we provide services for the user benefits.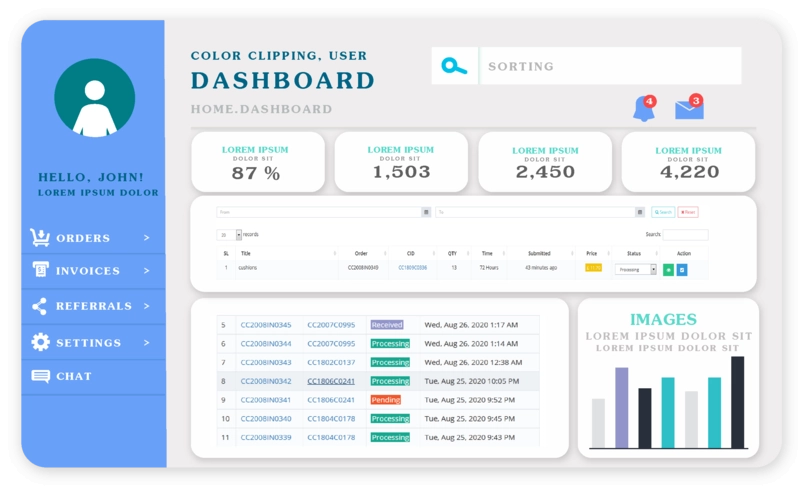 More
What Other Services We Have?
See our other photo editing & retouching services, you might like one to add in your list.
Tina Robert
"Great job. Adjust the right colors and highlight details as I wanted."